Universal TV Remote Control
1.7
Turn Your Smartphone into a Universal Remote
Do you misplace your TV's remote control on a frequent basis? Have you had your remote control broken by your little one? If the answer to any one of these questions is in the affirmative then this app is ideal for you. Universal TV Remote Control is a cool app which lets you turn your Smartphone into a remote control for your Smart or Infrared compatible TV set. It offers you the opportunity to control the various functions of your TV set without requiring its remote control. With this universal remote on your phone, you will be able to change channels and control the volume of your TV set right from your phone.
Universal TV Remote Control has a user-friendly interface and a smart layout and design which makes it easier to use for one and all. The home screen of this universal remote offers four options to you. The first one is Smart TV Remote which contains the list of the Smart TV devices that you can control using this app. Select TV Brand (IR) is the second option available which provides a list of the brands of TV sets that are Infrared compatible. You have to see and find out if your TV's brand is included in this list and then select it. The third one, My Devices, is where all your favorite TV devices are stored while the fourth one, Themes, allows you to pick a color theme for your universal remote.
The choices available in the Smart Device list of Universal TV Remote Control is rather limited. The options you will find in here include Android, Apple, Chromecast, LG and Roku. In order for you to start controlling your smart TV using this app, you will have to ensure that your smart TV device, as well as your phone, are connected to the same Wi-Fi network. Aside from controlling the various features of your smart TV with this universal remote, you can also use it for casting the videos, photos and songs you have on your phone onto the screen of your smart TV.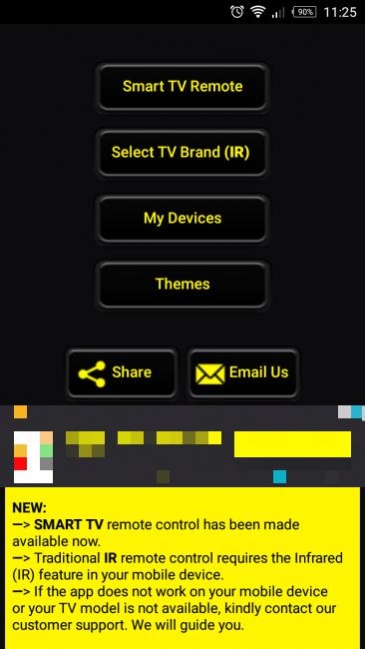 For IR compatible TV sets, Universal TV Remote Control provides a comprehensive list of TV brands. You are sure to find your TV brand in this list. However, even if you don't, you can use the Email option to send the app developers a request for adding your TV brand to the list. Do remember, however, that your Android device needs to have an IR blaster function in order for you to control the function of your IR compatible TV with this app. You will find all the buttons you will find on a regular remote control on this universal remote. There are options available for a specific model of TV brand as well that you can choose by clicking the model's name from the top bar of the app.
Universal TV Remote Control offers 4 different color themes to you for your universal remote. These themes include default theme, chocolate theme, grey theme and pink theme.
Features:
User-friendly interface
Smart layout and design
Lots of IR compatible TV brands to choose from
Various smart TV devices
Control all the functions of your TV set
Create your own device list
4 different themes available
Email app developers to include your TV set in the TV brands list
Conclusion:
Universal TV Remote Control is an app which is marketed towards people who constantly lose the remote control for their TV sets. It offers them the chance to transform their phone into a universal remote control capable of controlling all the different functions of your TV. It is certainly a nice app to have on your phone especially if you have a habit of misplacing your TV's remote control.
RELATED PROGRAMS
Our Recommendations
---
---
---
---